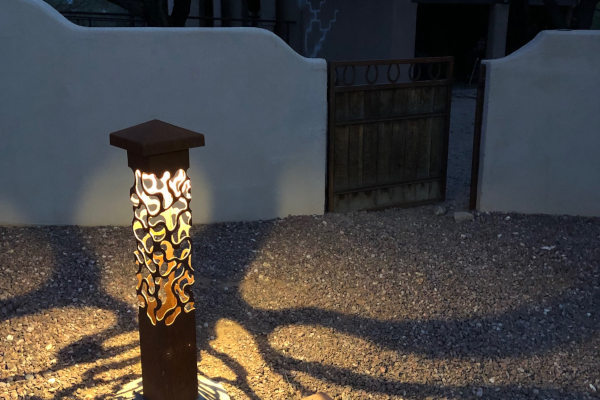 Attraction Lights has been consistently upgrading our landscape lights (2×2, 4×4 and 6×6 Series) since our first models were introduced over 16 years ago. We have listened to our customers, and we have installed the decorative bollards ourselves for hands on experience. We have always been open to new ideas, and we remain determined to be the creativity and quality leader in our signature style of outdoor lighting!
Photo above: Lava Lamp 6x6x42″ Bollard – note the design wraps the corners!
Below: Lava Lamp 6×6 detail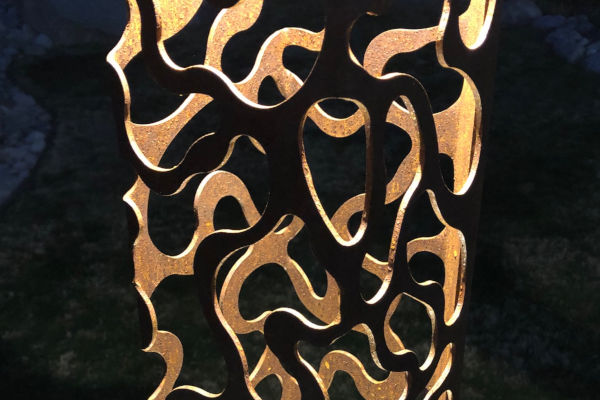 As 2021 begins we have now perfected and implemented the upgrades we have been working on for the last couple of years. If you have not purchased from us recently here are the top 3 highlights:

1. The new 2×2, 4×4 and 6×6 Series lights are a sophisticated formed square fixture with the wireway built into one corner. The same new fixtures are used for the weathered steel and zinc-plated powder coat finish options.
This new production approach also offers the possibility of other metal options such as aluminum.
And, our turn-around-times are reduced for your cut to order projects!
Photos below: Lava Lamp 6x6x42″ – 1 solid corner for wireway! See 6×6 Series Bollards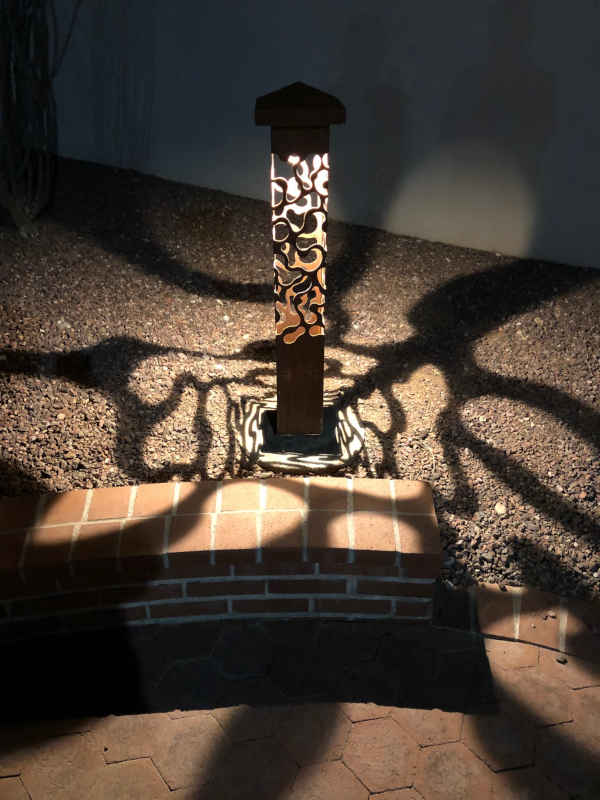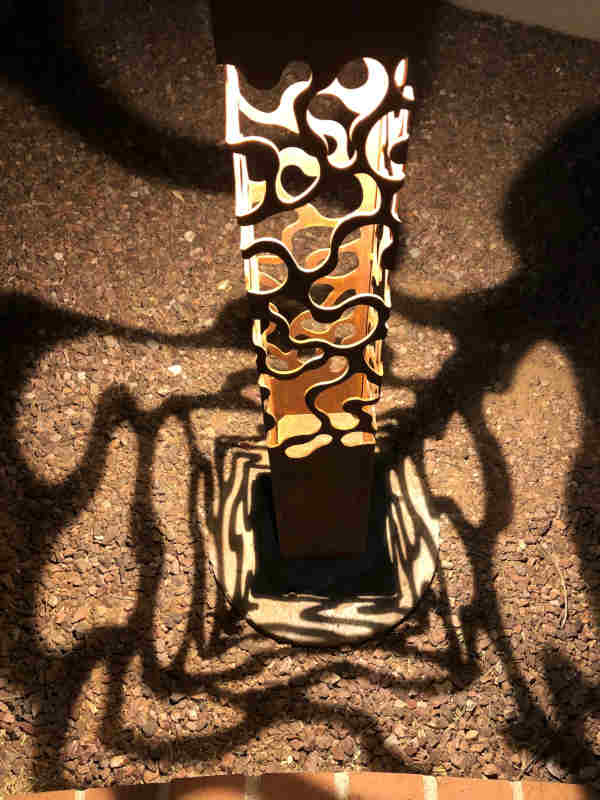 2. Our new manufacturing (exclusive to Attraction Lights) gives us the flexibility to wrap three of four corners with graphic designs as cut from the heavy gauge steel.
Attraction Lights will keep our most popular designs as is with solid corners. These designs will be the "Classic Designs."
We are introducing new designs that are enhanced by bending around the corners such as the Lava Lamp design seen in this article. Also see the Shadow Art Series (round fixtures). These designs are now options for the 4×4 and 6×6 Series!
Photos below: Lava Lamp 6x6x80″
Base detail: Up light in the base is now standard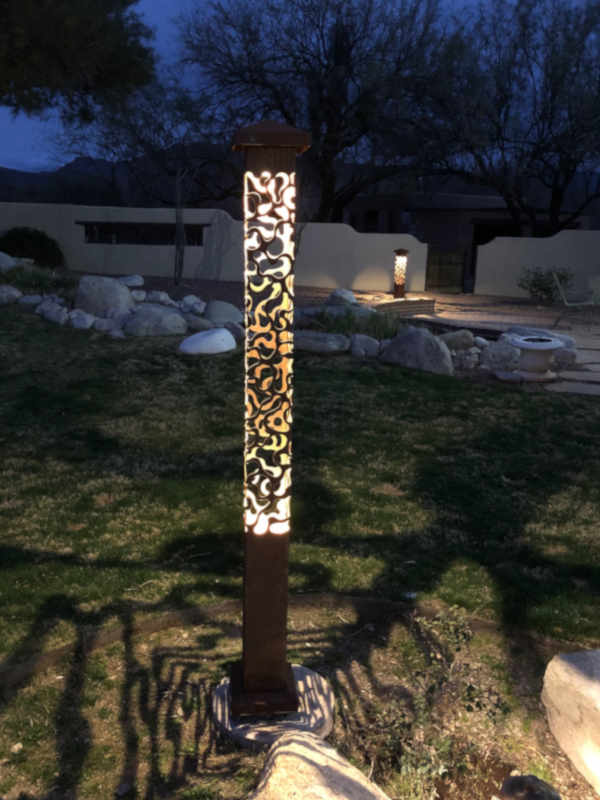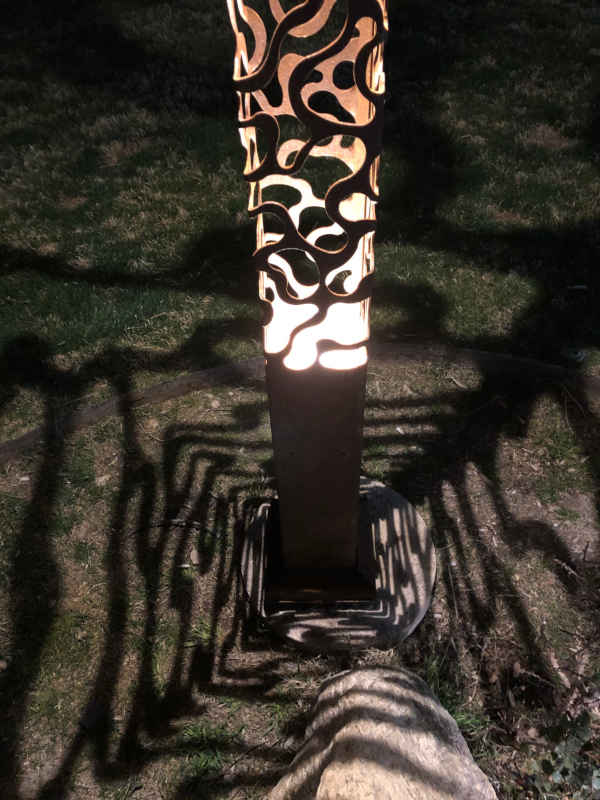 3. The 4×4 and 6×6 Series bollards all have the same style stainless steel drop in top enclosure plate to protect the LED lamps and limit bugs. These top plates can also be adapted to fit a variety of LED modules.
Example: We have heard from customers requesting the Brilliance LED Mini Beam rather than bipin lamps. We now offer top plates to make it easy to position and install this integrated LED option.
Also, we offer Custom Mini Beams with a wider beam spread and better shadow patterns with our 4×4 and 6×6 bollards than the standard model. See LED Lamp recommendations by fixture size
Photo below: Lava Lamp 6x6x42″ shadow patterns (with open corners)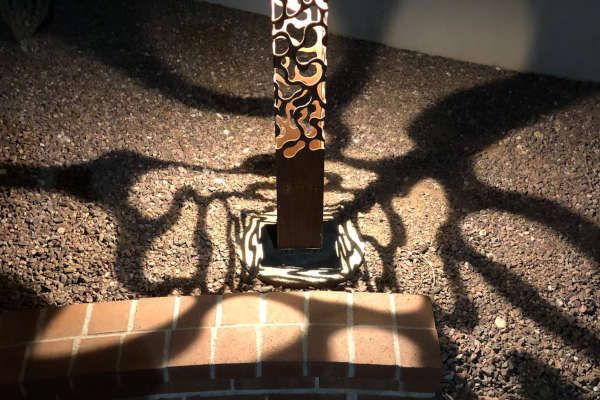 Attraction Lights has implemented these significant upgrades to make sure we remain your best choice for decorative bollards with shadow pattern lighting!
You will find we have the best pricing when paired with Attraction Lights quality!
We offer the most decorative bollard outdoor lighting options ranging from our 2×2 Series path lights to 10.5 foot Pillars suitable for streetscapes and park settings!
Attraction Lights offers the most graphic design options with ever-expanding choices. We also offer expert custom design graphics for your best project leads!
Photo below: Lava Lamp 6x6x42″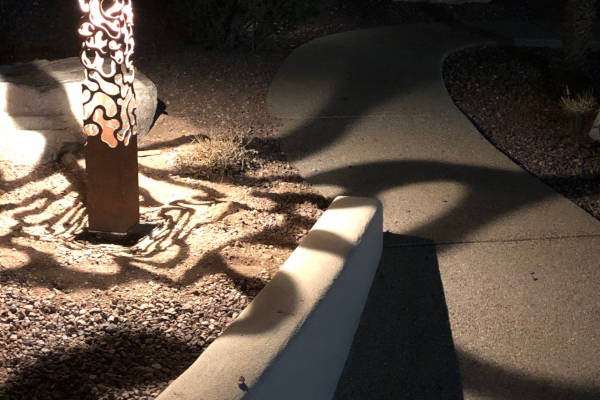 Special 20% off demo light offer: Purchase one of our new light fixtures to see for yourself and display for clients the quality and artistry of Attraction Lights! Even if you have purchased demo lights previously this offer still applies! Check our Availability page to pick one out today!
We look forward to working with you in 2021! Let me know if I can help you in any way with design recommendations, or a price quote for your next exciting project!
Photo below: Lava Lamp 6x6x80″