Attraction Lights is introducing new landscape lighting fixtures, called "2×2 Series!" These slim, stylish lights broaden the appeal of our decorative designs, and offer a significant reduction in price, too!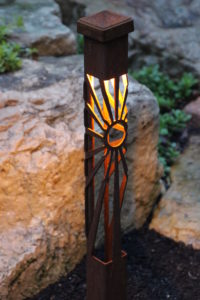 The 2×2 Series embodies many of the same distinctive features that establish Attraction Lights as the leader in creative outdoor lighting! Our new design provides a slim artistic landscape element, adding a subtle beauty alongside its sculptural cousins in the 4×4 and 6×6 Series.
The narrow profile of the these lights allows for excellent lighting with our recommended LEDs. This lamp is the Brilliance 2 watt bipin in 2700K or 2200K (candle light). Also, enjoy our trademark surprise: Beautiful shadow patterns projected on the ground surface from the steel housing designs!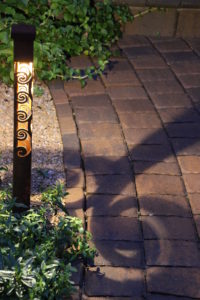 The initial graphic designs include one new design, called "Sun," plus two of our most popular designs adapted for the 2×2 inch size: "Lantern" and "Swirls."  The standard finish is weathered steel, a wonderfully organic finish for the outdoor environment.
The 2×2 Series was designed for both economical production and artistic appeal! The creative lighting professional will be able to further distinguish their projects with these new Attraction Lights signature designs!
At Attraction Lights we continue to expand our vision for outdoor lighting. "Expand Your Vision" too, by offering your clients the latest exciting ideas in landscape lighting!
Website note:  Look around AttractionLights.com to see all our updates and  changes.  A redesigned Lighting Products page includes the new 2×2 Series.  Also, check out the Outdoor Lighting Projects page for more ideas for your next project.