Firefly Globes and Round Columns – New for 2018!
Background:  
A couple months ago, I discovered copper wire LED string lights while out at a nice restaurant with my business partner, Janie. The enchanting display of "Firefly Lights" we saw filled large glass containers on a ledge, creating a warm glow and beautiful ambiance. The following photos present our creative take on showcasing this attractive light source.
Firefly Globes – Ground Mount:
Consider dramatic new pathway and area lighting with Firefly Globes, ground or surface mounted. The LED color is 2200K which is very pleasant to look at and the sum total of the hundreds of small LEDs is enough lumens for effective soft warm glow lighting.  The clear acrylic sparkles by reflecting the many points of light.
Firefly Globes – Tree or Trellis:
These decorative ornaments can also provide year round area lighting. Same beautiful golden globes, with hardware to hang from branches, a trellis, roof line, etc.  Use in groups of three sizes for best effect:  8″ 10″ and 12″ shown. Attach the globe's long lead wire to your 12 volt landscape lighting system.
Firefly Round Columns:
The same fascinating light source can also fill 4-inch round acrylic tubes. The photo shows an indoor floor stand option, but these can also be used outdoors as deck or patio stand-alone lights. A variety of heights will be available from 2 feet to 6 feet tall for path lighting or as featured lighting elements in the landscape.
Firefly Series:
This exciting new light source has many possibilities that we are just beginning to explore for outdoor and indoor use. The copper wire string lights are very water resistant. They are suitable for outdoor use and the acrylic housings provide an extra layer of protection. Frosted acrylic and a variety of LED colors provide even more appearance options.
We will be adding details for these new lights to our website early in 2018. See the website's Galleries page for these photos and more. If you would like high rez images to download, email us to receive a Dropbox link.
Please send us your feedback and let us know what options you like best!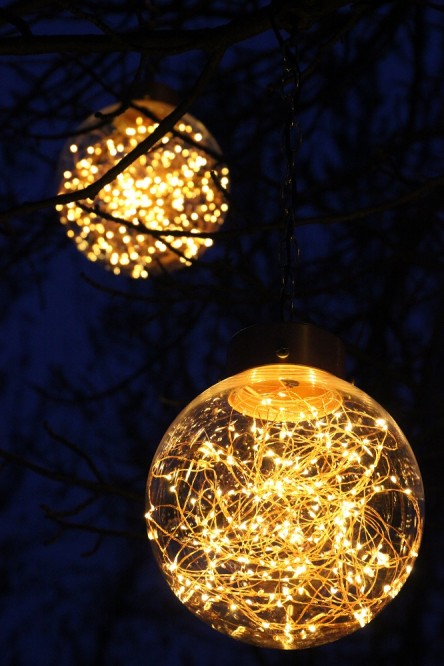 Wishing you a prosperous New Year!
It has been another year of growth for Attraction Lights, thanks to our loyal customers and many new customers as well!  I will use this email format to keep you up to date on our business expansion and new light fixtures in the works for 2018.
Thank you so much for your continued business!  Lyle Braund