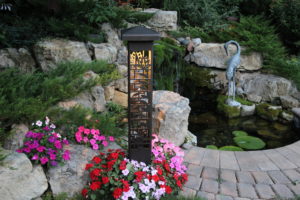 Looking for a way to spark renewed interest with your existing clients? We'd suggest showing them the latest and greatest in artistic outdoor lighting! Our best customers tell us of great results recommending Attraction Lights fixtures to their existing clients. Some even take demo lights on service calls to show as a conversation starter.
Now that your customer is excited to hear your ideas for adding something new and artistic to their property…where should you place Attraction Lights fixtures for the best effect?
Design Ideas: 
To start, Attraction Lights bollards are more than heavy duty lights; they are also landscape sculpture and yard art, which has a strong aesthetic appeal for most homeowners.
Also, the lighting is more than just great lighting with the added drama of shadow patterns. Consider adding these signature dimensions to your design pallet!
Specifics:
Add a beautiful lighted sculpture to a dull planting bed… now it's a beautiful landscape focal point!
Example: The play of light and metal design on our 6x6x80″ or 9x9x100″ is enchanting! They are very approachable and intriguing to contemplate at eye level (with no glare). These tall bollards stand out among plantings and create a great incentive to stroll the garden night or day!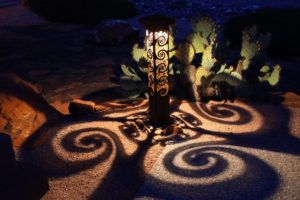 Create a new view for your client to enjoy inside the house from a picture window, year round. Don't be timid… go with a tall bollard to attract attention beyond the glass!
Also, consider where the lighting will fall at night: Maybe on beautiful plantings, or on a patio to show off the shadow patterns. You might also mention the dramatic winter scene they will have when the snow covers the ground!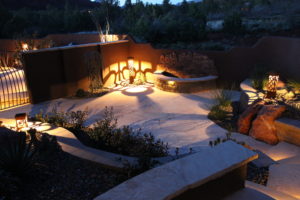 Expand the nighttime scene beyond typical pathway and house lighting for more depth, improved yard access, and security. Attraction Lights bollards establish a strong visual connection even when placed well apart in the yard.
Consider a group of three bollards in three different heights as an attractive grouping to unify an area, illuminate, and expand views.
Create a special highlight for guests to enjoy along the front walk with a beautiful artistic light, and dramatic shadow patterns too!
Welcome guests with something out of the ordinary before they reach the front door. Even a well placed small light will be memorable!
(Contrast with Swirls 6x6x42″ above)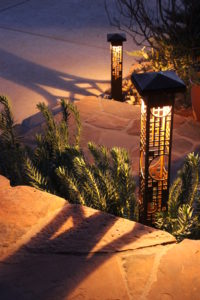 Photos for your presentations?
Would you like to show your clients photos like these to spark interest? Reply to this email and request our updated Dropbox folder link with many project photos from all over the country. You are welcome to download our images and include in your presentations.
Also, remember to ask about our demo lights to show the substantial quality and great unique lighting at your next important appointment!
I am always happy to discuss design ideas with you. Send me your project photos. I'd love to see what you are working on!
Lyle Braund
Attraction Lights, LLC
970-316-0019
Lyle@attractionlights.com