Attraction Lights will Spark Interest with your clients!
Add new, exciting opportunities for clients in 2016 by offering clients Attraction Lights in their existing landscape design!  Attraction Lights fixtures are a great conversation starter with your clients! Here's how:
Call them to say you would like to show something truly unique and beautiful as an enhancement to their landscape design!
Send an email showing artistic Attraction Lights photos! (Ask us to send a photo folder link with images for download.)
Add these same great images to your website!
Send a mailing showing beautiful night scene and shadow pattern lighting!
Show a demo light on a service call to spark their interest in more work!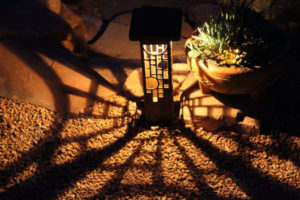 Now that you have their interest, how do you add Attraction Lights to an existing lighting plan? Here are three possibilities to consider:
1. Expand the night scene by adding a tall sculptural light or a fixture grouping beyond the existing lighting. This will create new nighttime views, and encourage an evening walk in the garden.
2. Replace those common path lights with artistic Attraction Lights fixtures. Our lights add drama to any night landscape! Your client will enjoy the art, plus the new dimension of shadow patterns! Note: For the shadow patterns to be visible, set the new light apart from other lighting.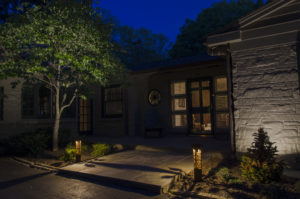 3. There is a lot of client interest in landscape art and sculpture! Now you have outdoor lighting art to offer!
Ideas for introducing Attraction Lights to customers:
Suggest the idea of "lighting art" when guests arrive at the property! (Along the driveway and/or walkways.)
Suggest creating a dramatic view for the client to enjoy from the patio, deck or pool!
Consider what a new nighttime view from inside the home might look like, for year-round enjoyment.
Show how one accent light (or group) added to a previously invisible garden area can bring it to life!
Offer custom designed fixtures for your best clients!
Attraction Lights will add new excitement to your client's lighting plan! You are now offering more than just functional lighting. You are offering art in the form of useful sculpture with amazing lighting!
Expand Your Vision for lighting and you will expand your business possibilities!