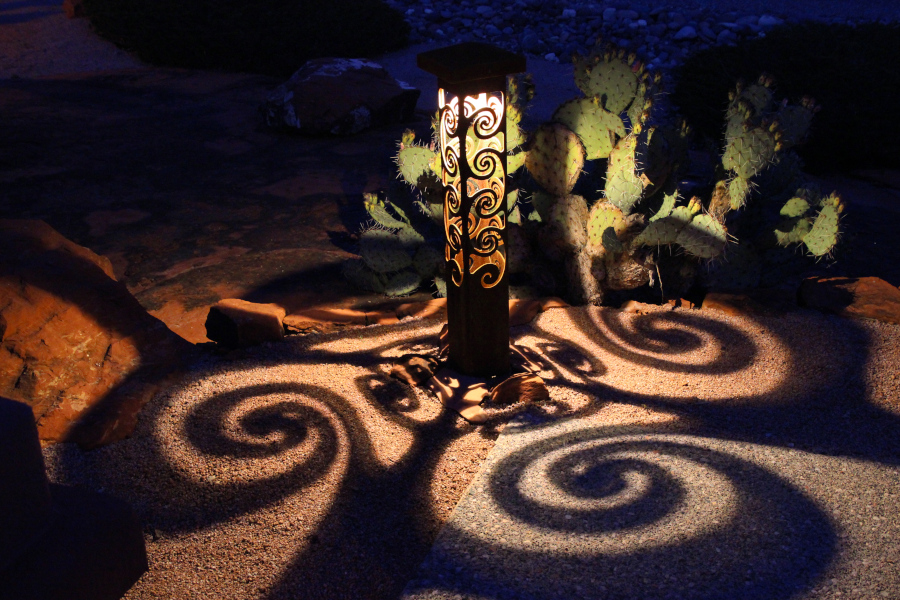 Attraction Lights 4×4 and 6×6 Series fixtures safely light the driveway and walkway for this beautiful home in the red rock country of Sedona, AZ. The homeowner is a local artist who desired to make an artistic statement in her landscape with our bollard style fixtures!
Designer Notes by Lyle Braund: Mixing bollard sizes and heights. My philosophy is that a variety of fixture heights (and designs as outlined below) work well in many landscape areas such as this front yard. The lights used are all our weathered steel finish and have the same general appearance: square with similar caps. I believe the continuity of shape, finish and graphics in this walkway example provides good visual connection. Changing fixture heights adds even more interest to the view!
Above is the Swirls 6x6x42″
Link to more design and height options in the 6×6 Series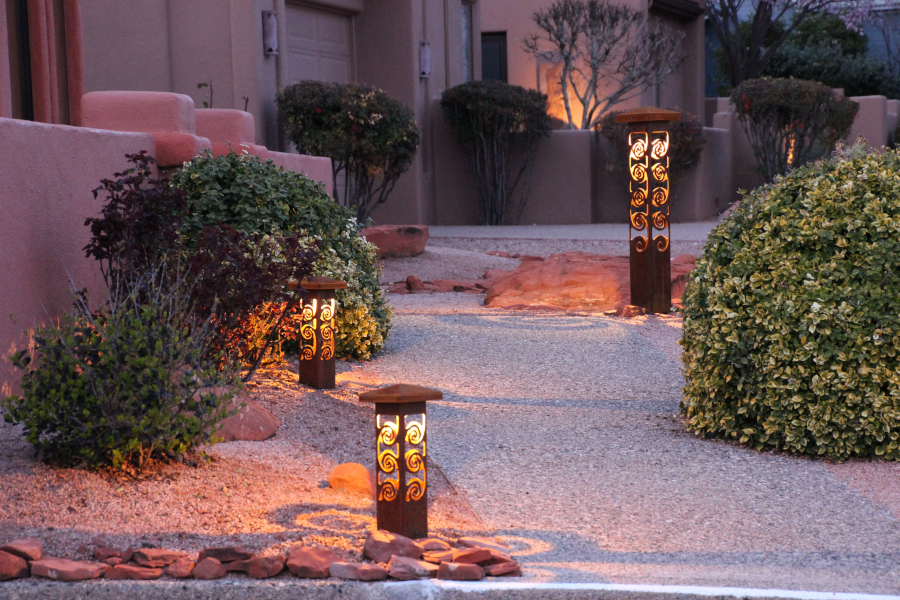 Lights are all 12 volt: Two Swirls 4x4x17" (above) light the walkway and the step at the driveway. A 4x4x25 could also have been used by the driveway to give even more lighting spread. The Swirls 6x6x42" is the focal point, drawing the eye down the walkway. When you arrive at the bend there is the added drama of a larger Swirl projected on the ground.
Link to more design and height options in the 4×4 Series
Changing fixture graphics? Our client liked the idea of seeing variety in the fixtures in her yard. We chose two designs: Swirls and Aspen. The Swirls design is featured along the walkway where the shadows can be appreciated up close. Aspen 6×6 bollards are the featured landscape elements in other areas to expand the views. Example: An Aspen 6x6x34" (see below) is used at the property corner. An Aspen 6x6x26" is enjoyed by the front door as well, adding a courtyard sculpture to view from inside the house.
If you prefer drawings to show the fixture graphics and sizes try these links:
Link to pdfs with Design Options
Link to pdfs with Fixture Dimensions
Homeowner, Marilyn Erickson: "Nightly, I get to enjoy the artistic expression that the lighting provides. It is a quality product and wonderful folks to work with."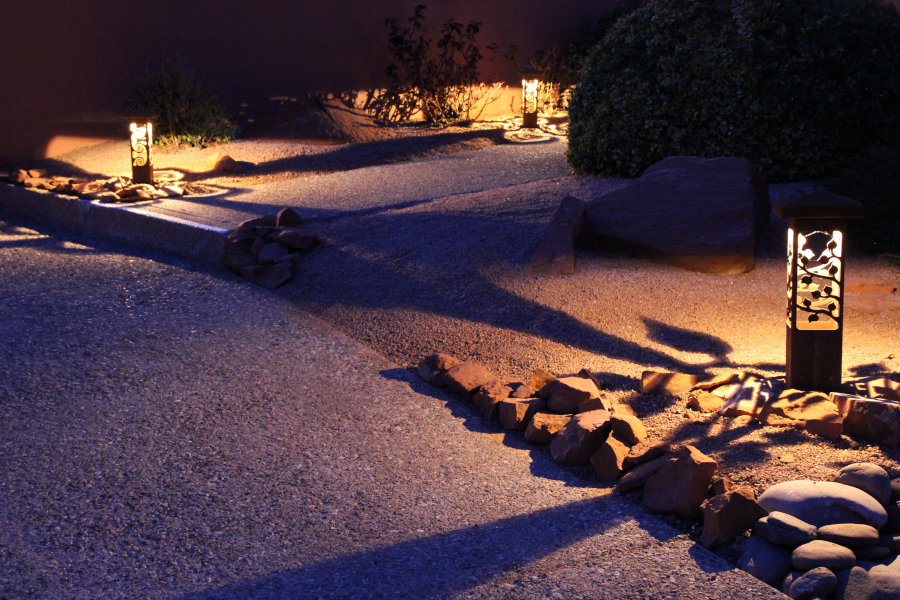 General design thought: A good landscape design shapes views and uses focal points to add visual interest. Attraction Lights bollards are excellent for enhancing these aspects of a landscape plan. Our bollards will attract attention and guide the viewer's eye night or day in ways that plantings alone cannot.
Aspen 6x6x26″ used by driveway entrance and in courtyard by front door. (below)
Lyle: I hope this sample project helps illustrate how the use of multiple fixture sizes and even a variety of designs can make your lighting design more interesting, and enhance the overall appeal of any outdoor environment!

See more photo galleries of Residential and Commercial lighting projects here.
Please feel free to contact me to discuss your project, and how the addition of Attraction Lights bollards can help expand your lighting artistry!
Lyle Braund
Owner & Designer
970-316-0019
AttractionLights.com